Add to Calendar
Jun 8, 2022
Registration: 7:15 AM / Program: 8:00 AM - 4:35 PM Pacific Time
Fees
| | |
| --- | --- |
| Member Fee: | $0.00 |
| Nonmember Fee: | $0.00 |
---
Available Discounts
| | |
| --- | --- |
| AICPA Member: | None |
| Full time Accounting Educator: | None |
Description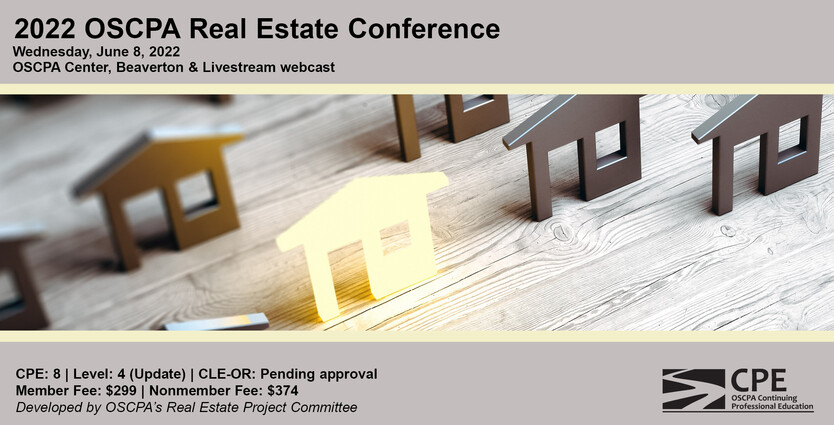 Learn about critical issues and current developments in real estate accounting, development, financing, and taxation.
To view conference agenda, click here.
CPE: 8
CLE-OR: 7
Health & Safety Protocols for In-person Attendance
All in-person participants agree to follow current health and safety guidelines and must adhere to applicable requirements including the following:
Acknowledge the COVID-19 assumption of risk, waiver, and release.
Follow local mask guidelines, if any, in place at the time of this event and comply with any other safety guidelines required by OSCPA or the venue.
Note: In-person seats are limited so early registration is suggested.

Prefer to attend via livestream webcast?
Register to attend via
webcast!
A special thanks to the members of the Real Estate Project Committee for developing the 2022 Real Estate Conference:
Michael L. Lortz – Chair, Adam R. K. Abplanalp, Susan K. Crawford, Reginald deGuzman, Darryl G. Eddy, Cameron M. Irtifa, Jonathan R. McGuire, and Michael R. Miller.
Designed For
CPAs with clients that own property, property owners, or anyone thinking about buying, selling, or owning real estate for investment; those who wish to know what to expect regarding tax laws and economic trends.
Objectives
To provide an overview of recent developments and important issues in real estate with a focus on taxation.
This event has already passed. If you have any questions, please contact us at 503-641-7200 or email profdev@orcpa.org.
---
Leaders
Trent Baeckl
Trent Baeckl is a shareholder at Perkins & Co. Since joining the firm in 2007, he has primarily specialized within the firm's real estate practice group. Trent's professional background in public accounting includes experience in tax for a variety of clients and entities focusing on pass-through taxation compliance and planning for pass-through entities and corporations. He serves a wide range of real estate clients including investment funds, real estate developers, construction companies, architects and single family home builders. In addition to his work in the real estate industry, Trent serves professional and creative service firms, manufacturing and distribution companies, and retail businesses. He also works with the owners of these closely held businesses to ensure that planning is comprehensive in nature. Trent holds a Bachelor of Science of General Studies from the University of Michigan and a Master of Accounting degree from Washington State University. He is a member of the American Institute of CPAs and Oregon Society of CPAs, where he has served on the real estate education committee, and currently he serves on the board of St. Andrews Legal Clinic and Portland Alternative Investment Association.
(11/19/20)
Larry Brant
Larry Brant is a Shareholder at Foster Garvey PC in Portland, Oregon. He focuses his practice on assisting public and private companies, partnerships, and high-net-worth individuals with tax planning and advice, tax controversy, and business transactions. Larry regularly advises clients in entity selection and formation, structuring mergers and acquisitions, joint ventures and other business transactions.

Larry represents a number of professional services clients in accounting, law, healthcare, behavioral health, dentistry, engineering and architecture. Additionally, he represents a large array of clients straddling several industries, including farming and agriculture, logistics, manufacturing, high tech, recycling, construction, real estate, and maritime.

Larry is a past Chair of the Oregon State Bar Taxation Section. He was the long-term Chair of the Oregon Tax Institute and is currently a member of the Board of Directors of the Portland Tax Forum. Larry is an Expert Contributor to Thomson Reuters Checkpoint Catalyst. He is a Fellow in the American College of Tax Counsel.

Larry publishes articles on numerous income tax issues, including Taxation of S Corporations, Reasonable Compensation, Circular 230, Worker Classification, § 1031 Exchanges, Choice of Entity, Entity Tax Classification, and State and Local Taxation. In addition, he regularly speaks at national, regional and local tax institutes, including the NYU Tax Institute, the Florida Tax Institute, the NYU Tax Conferences in July, the Portland Tax Forum, the OSCPA Annual State and Local Tax Conference, the OSCPA Annual Real Estate Conference, the OSCPA Annual Forest Products Conference, the IRS Tax Practitioners Forum, the Northwest Federal Tax Conference and the Oregon Tax Institute.

Larry was the 2015 Recipient of the Oregon State Bar Tax Section Award of Merit, recognizing him for professionalism, reputation, leadership, and service to the tax community and the community at large.

He is the Editor and an author for Larry's Tax Law, a nationally recognized tax blog dedicated to providing technical support to tax and accounting professionals. Larry was named a "Top Author" for Tax by JD Supra in its Readers' Choice Awards, 2019-2021.

(11/11/21)
Bradley Burnett
Bradley Burnett, J.D., LL.M., is a practicing Colorado tax attorney with 33 years of tax practice experience. His practice emphasis is on tax planning and tax controversy resolution. He also prepares a handful of tax returns. Prior to establishing his own law firm in 1990, he practiced tax accounting with national and local CPA firms, worked as a trust officer for a Denver bank and managed the tax department as partner in a medium-sized Denver law firm. After receiving his undergraduate degree in accounting and law degree (J.D.), he earned a Master of Laws (LL.M.) in Taxation from the University of Denver School of Law Graduate Tax Program.
Mr. Burnett has delivered more than 3,000 presentations on U.S. tax law throughout all fifty U.S. states, Washington, D.C., the Bahamas, Italy, Greece, Turkey and Canada. He has authored texts of 35 CPE courses. Bradley served as adjunct professor at the University of Denver School of Law Graduate Tax Program, where he pioneered an employment tax course and occasionally pinch hit teaching the IRS practice and procedure topic. He has appeared on television answering tax questions for call-in viewers of Denver NBC affiliate KUSA Channel 9. Brad received the Illinois Society of CPAs Instructor Excellence Award for teaching in Chicago and five times has been the top rated, most requested instructor for CPA Society annual tax conferences. Burnett's seminar style is to deliver the subject matter in briskly paced, enthusiastic and witty fashion. His forte' is the candid communication of practical ideas relating to tax law.
(9/17/20)
Dan Eller
Dan Eller assists clients with tax and business law issues in both transactions and controversies. His transactional practice emphasizes choice of entity and formation, mergers and acquisitions, real property development, foreign bank account and asset reporting, and tax-exempt entity formation, qualification and operation. On the controversy side, Dan has handled a wide variety of tax collection and controversy matters, both federally and at the state level in Oregon and Washington. He has litigated cases before both the United States Tax Court and the Oregon Tax Court, where he formerly clerked for the Hon. Henry C. Breithaupt.

Since the enactment of Oregon's Corporate Activity Tax ("CAT") in 2019, Dan has been at the forefront of the implementation of this new tax. Dan is a frequent speaker on the CAT. Additionally, with Alee Soleimanpour Dan has co-authored a number of articles on CAT developments, both from the Oregon Department of Revenue and the Oregon Legislature.

Dan is an adjunct professor at Lewis and Clark Law School and an adjunct instructor in the School of Business Administration at Portland State University.
(8/20/20)
Ted Herzog
Ted is a member of Tonkon Torp's Real Estate & Land Use Practice Group. His practice focuses on real estate acquisitions, sales, leasing, financing, and development, particularly in the seniors housing market. Additionally, he counsels on general business matters and negotiates and drafts a wide variety of business contracts. He has been recognized by Best Lawyers in America for his real estate law expertise.  Ted is licensed to practice law in Oregon, Washington, and Idaho.
(1/12/22)
John Mitchell
John Mitchell received his B.A. degree from Williams College and his M.S. and Ph.D. degrees from the University of Oregon. He is a fellow of the College of Arts and Sciences at the University of Oregon and a member of Phi Beta Kappa. He was a professor of economics at Boise State University for 13 years, before joining U.S. Bancorp in July of 1983. He was Chief Economist of U.S. Bancorp until July of 1998 and served as Economist Western Region for US Bank until July of 2007. He wrote US. Bancorp's regional publications including the Update, The Business Barometer, Northwest Portrait, and US Territorys and was a columnist for Oregon Business Magazine. He wrote Sterling Bank's economic newsletter from 2007 to 2012. He currently speaks to conventions and business groups around the nation. He was a business analyst for KPTV in Portland. He has been making economic presentations on the nation and the region for more than 47 years.
John was a member of the Western Blue Chip Forecast Panel, the ABA's Panel of Economists and is a Trustee of the Aquila Tax Free Trust of Oregon, and a Board member of Northwest Bank. John was Chairman of the Oregon Council of Economic Advisors from 1992 to 1998 and a member from 1984 to 1998. He was Chairman of Governor Kitzhaber's Tax Review Technical Advisory Committee.
John and his wife, Carol, live in Coeur d' Alene, Idaho. He enjoys biking, railroading, sea kayaking, and his granddaughters.
(11/19/20)
John Petersen
John Petersen
PRESIDENT, MELVIN MARK CAPITAL GROUP

For the past 30 years, Mr. Petersen has been an active community leader with a diverse background in corporate, legal, finance, credit, management, and marketing of local, regional, and national banking and financial services. He has established relationships with a majority of top-tier developers and borrowers in the region.

Prior to joining Melvin Mark Capital Group in 2010, Mr. Petersen spent nine years at CBRE Capital Markets|Debt & Equity Finance as Director and Manager of the Portland, Oregon office. Prior to CBRE, he was Senior Vice President for Bank of America, Regional Executive, and Manager for commercial real estate lending functions for Oregon, Idaho, and southwest Washington.

Professional Affiliations:
Oregon State Bar 
Member of Oregon Mortgage Bankers Association, Past Board Member and Service Award Recipient 
Member of NAIOP, Director and 2001 Portland Chapter President 
Portland State University Foundation: Board Member 2002-current year, Board President 2008-2009, Chair Real Estate Committee 
Education:
John attended the University of Oregon, graduating with a BA in Mathematics, as well as the School of Law (Law Review), JD.
(1/18/22)
Leah Sykes
Leah Sykes is a founding partner in the Litigation practice, Andor Law, P.C. Ms. Sykes serves housing providers in all legal aspects of property management with a special focus on education and fair housing discrimination defense.

Ms. Sykes takes a hands-on approach, advising clients in both the non-profit and for-profit housing markets, with a great depth of knowledge of the interplay between federal, state, and local agencies and regulations. She has expanded her strong litigation background to include preventative methodologies for clients, including management, business structure, corporate training, and advising the industry in legislative matters.

Ms. Sykes travels regularly to educate clients, trade organizations, and the housing provider industry. In 2015, Ms. Sykes established an annual educational "Fair Housing Fair" in conjunction with Multifamily Northwest and regularly collaborates with other housing organizations and advocates regarding best organizational practices.

Proudly Canadian, Ms. Sykes has great empathy for the plight of immigrant women and has volunteered as an advocate for immigrant women. She also was appointed in May 2018 by the Portland City Council to sit on the City of Portland's Rental Services Commission to advise regarding rental housing laws and regulations.

Ms. Sykes was admitted to the Oregon State Bar in 2002, the Washington State Bar in 2016, and graduated from Lewis & Clark College of Law in Portland, Oregon with an entrance scholarship. She also received a scholarship and a Bachelor of Arts from Simon Fraser University in British Columbia, Canada.
(1/18/22)