Add to Calendar
May 16, 2022 - May 17, 2022 Pacific Time
Registration: 7:30 AM / Program: 8:00 AM - 4:35 PM Pacific Time
Fees
| | |
| --- | --- |
| Member Fee: | $0.00 |
| Nonmember Fee: | $0.00 |
---
Available Discounts
| | |
| --- | --- |
| AICPA Member: | None |
| Full time Accounting Educator: | None |
Description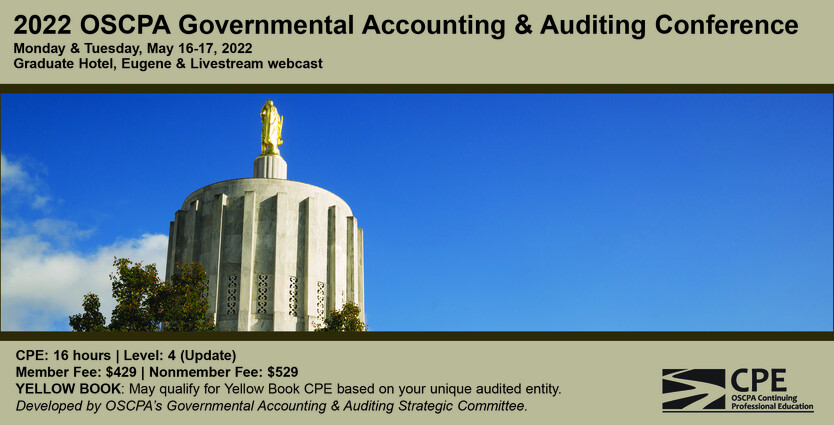 If you work within the municipal environment or complete governmental audits, you don't want to miss this conference.
To view conference agenda, click here.
YELLOW BOOK: May qualify for Yellow Book CPE based on your unique audited entity.
Hotel Accommodations: A room block has been established at the Graduate Hotel, Eugene for Sunday-Wednesday, May 15–18, 2022 at a rate of $144 per night (plus applicable taxes).
To make a reservation, please call 1-413-821-3144 x4100 and refer to booking code: OSCPA0520 or make your reservation online here. Room block extended to Tuesday, May 3, 2022.
Health & Safety Protocols for In-person Attendance
All in-person participants agree to follow current health and safety guidelines and must adhere to applicable requirements including the following:
Acknowledge the COVID-19 assumption of risk, waiver, and release.
Follow local mask guidelines, if any, in place at the time of this event and comply with any other safety guidelines required by OSCPA or the venue.
Note: In-person seats are limited so early registration is suggested.

Prefer to attend via livestream webcast?
Register to attend via
webcast!
A special thanks to the members of the Governmental Accounting & Auditing Strategic Committee for developing the 2022 Governmental Accounting & Auditing Conference:
Chloe E. Dixon – Chair, Kevin S. Mullerleile – Vice Chair, Anton P. Ballek, William R. Barker, Bradley G. Bingenheimer, Barbara J. Blue, Gerald W. Burns, Janice M. Essenberg, Julie B. Fahey, Cynthia A. Granatir, Jonathan D. Grover, Eileen E. Hendricks, Chelsea A. Hewitt, Philip L. Hopkins, Janell K. Howard, Gary J. Iskra, Amy I. John, Amanda L. Marble, John I. Mickelsen, Daniel A. Miley, Tonya M. Moffitt, Kari J. Ott, Ryan T. Pasquarella, Roy R. Rogers, Mylen N. Shenker, Steven L. Tuchscherer, Ronald R. Vaught, and Robert G. Yingling Jr.
Designed For
CPAs and accounting professionals working within the municipal environment.
Objectives
Provide a general overview of current developments in governmental accounting and auditing.
Major Subjects
2022 GASB Update
Pamela Dolan, CPA, Governmental Accounting Standards Board
This session will give an overview of the GASB pronouncements that will become effective in the upcoming fiscal years. The session also will explain some of the projects on GASB's current technical and research agendas.
2 CFR 200: Risks, Secrets and Special Nuggets Found In Our Federal Uniform Guidance
Rex Porter, MBA, MSSM, Porter Group LLC
2 CFR 200 is our Federal Uniform Guidance for the application, expenditure and documentation of grant funds. This session will help the attendee understand and apply the vital Federal guidance with greater knowledge and skill. From areas of high risk, to little known standards to special features — this session will provide valuable areas of uniform guidance focus for your post-session use.
Professional Standards and Emerging Issues Update
Ahava Goldman, CPA, AICPA
The session will include an update on recent and upcoming Professional Standards: SASs, SSAEs and Quality Management. The session will go in-depth on understanding and applying the new risk assessment and quality management standards, and will also cover emerging issues — including the New CPA Pathway.
Fraud in a Remote Work Environment
Nancy Young-Oliver, CPA, CISA, CFE, MBA, TriMet
Details coming soon!
Combatting Public Corruption
Ryan Dwyer, Federal Bureau of Investigation
Jared Rollins, Federal Bureau of Investigation
Details coming soon!
Municipal Audit Law & Oregon Minimum Standards Update
Amy John, CPA, Licensed Municipal Auditor, Oregon Secretary of State Audits Division
This session will summarize Municipal Audit Law and provide a general update on the program. Amy will share information about current trends and the processes and resources available to local governments in support of their compliance and annual filings. This session will also provide an overview of the annual legislative report summarizing municipal audits.
American Rescue Plan Act (ARPA) and COVID Funding Update
Tonya Moffitt, CPA, Merina + Co
This session will help answer your burning questions about ARPA. What do we know? What should we be doing now to be in compliance? What questions do we have? What are best practices? Attend this session to find out!
Tips & Tricks for Successfully Completing the Annual Comprehensive Financial Report (ACFR) and Annual Audit in 120 Days
Keith Simovic, CPA, Moss Adams LLP & Ashley Tuttle, CPA, Clean Water Services
The Annual Comprehensive Annual Report (ACFR) is a large and complex financial reporting tool that requires a significant time investment and coordination from staff, management, and the external audit team to complete. This course is designed to provide an overview of how one local government in Oregon has been successful in its goal to complete this process within 120 days after fiscal year end. Come learn the tips and tricks for achieving this lofty goal and hear from both the finance department and the local government's independent auditor.
PERS Update
Matt Larrabee, FSA, EA, FCA, MAAA | Scott Preppernau, FSA, EA, MAAA, Milliman | MaryMichelle Sosne, Oregon Public Employees Retirement System | Jake Winship, CFA, CMA, Oregon Public Employees Retirement System
Oregon PERS staff members and the system's retained actuaries will discuss how recent developments affect the funding of the program as well as implications for individual employer accounting results. Topics will include recent assumption and methodology changes made by the PERS Board, the effect of recent actual investment returns and changes to the assumed future investment return, along with how system-wide results flow through to the GASB information PERS provides for individual employers.
Did you know? The OSCPA member rate for CPE courses is extended to all OSCPA members and their employees who are not eligible for OSCPA membership. Members of other state CPA societies are also eligible for member rates.
After adding the course(s) to your cart, click "Apply Discounts" and select either "This person is an uncertified staff of an OSCPA member" or "This person is a member of another state CPA society."

Administrator Note: If you are registering individuals from your firm/business to attend this in-person event you have two registrations options:
Via online registration: prior to completing this registration, you must confirm with each individual that they have read and agree to the COVID-19 Assumption of Risk, Waiver, and Release. Or,

Call OSCPA: at 503-641-7200 / 800-255-1470, ext. 3 to register your staff. Following registration, OSCPA will send an email to each registered individual with a link to the COVID-19 Assumption of Risk, Waiver, and Release.
This event has already passed. If you have any questions, please contact us at 503-641-7200 or email profdev@orcpa.org.
---
Leaders
Pamela Dolan
Pamela Dolan is a Supervising Project Manager with the Governmental Accounting Standards Board. Prior to joining the GASB, Pam worked for 20 years for the City of Spokane, Washington as their Director of Accounting, as well as in other roles including Acting City Treasurer and Chief Accountant. Prior to her time in Spokane, her professional work experiences included positions in higher education, private industry, and public accounting. Pam is a Certified Public Accountant, and is a member of the GFOA, AICPA, and the Washington Society of CPAs. She also previously served as an Executive Board member for the Washington Finance Officers Association. Pam attended Gonzaga University, graduating with honors with a Bachelors degree in Business Administration, majoring in Public Accounting.
(1/26/21)
Ryan Dwyer
Agent Ryan Dwyer supervises the FBI Resident Agencies (satellite offices) in Eugene and Medford. He is also the Public Corruption and Civil Rights Program Coordinator for the FBI's Portland Field Office, which serves all of Oregon. SSA Dwyer previously served in the FBI's San Francisco Field Office and in the Public Corruption Unit at FBI Headquarters in Washington, DC.
Ahava Goldman
Ahava Goldman, CPA, is an Associate Director with the Audit and Attest Standards team at the Association of International Certified Professional Accountants (Association). Ahava is the staff liaison for the AICPA Auditing Standards Board and supports their standard-setting activities. Previously, Ms. Goldman was a senior manager on the AICPA Examinations Team where she was responsible for the content and development of all sections of the Uniform CPA Examination. Before joining the AICPA, she worked in public accounting at both local and national firms. She graduated magna cum laude from Stern College of Yeshiva University with a Bachelor of Science in Accounting.
(11/19/20)
Amy John
Amy John joined the Secretary of State Audits Division in 2000 as a staff auditor and has spent 20 years leading financial and federal compliance audits for a variety of state agencies and programs. During that time, she spent several years as the in-charge auditor for the Municipal Audit Program and has been managing the program since 2017. Amy is a CPA and licensed municipal auditor.

Amy has participated in the OSCPA since 2005 when she joined the Governmental Accounting and Auditing Committee and served as Committee Chair in 2012. She also served on the OSCPA Board of Directors from 2013 through 2020, serving as Chair in 2019. 

When not pouring over governmental audit reports, Amy likes to travel, spend time with her husband and large extended family, climb mountains, and take her dogs hiking.
(12/2/21)
Matthew Larrabee
Based in Milliman's Portland office, Matt Larrabee has more than 25 years of actuarial consulting experience. He is currently the lead consulting actuary for public pension systems with over 1.5 million participants and approximately $350 billion in liabilities.

Matt is the co-author (with Jennifer Brown of the National Institute on Retirement Security) of the research study: Decisions, Decisions – Retirement Plan Choices for Public Employees and Employers. He has undergraduate degrees in mathematics and electrical engineering from the University of Utah.
(1/28/22)
Tonya Moffitt
Tonya Moffitt, CPA is a Partner of Merina+Co where she performs and manages governmental audits. She is the co-chair of the Accounting Standards Review Committee for the Oregon Municipal Finance Officers Association, OSCPA Governmental Accounting and Auditing Strategic Committee and a reviewer for the Government Finance Officers Association Certificate of Excellence in Financial Reporting awards program.
She teaches various continuing professional education classes to Certified Public Accountants, industry professionals, and students for the Association of International Certified Professional Accountants (AICPA), Oregon Society of Certified Public Accountants (OSCPA), Oregon Government Finance Officers Association (OGFOA) and various others.
(7/7/20)
Rex Porter
Rex Porter has over 25 years of federal grant, contract and project management experience.  His federal experience spans organizational risk and performance assessments, business systems audits and compliance support for local governments and non-profits receiving federal funding, including grant management during the COVID-19 crisis.  Additionally, Rex provides internal control review, design and implementation and workshop training services. Rex has broad familiarity with domestic and international grant awards, joint projects with other federal agencies, and grant pass-through entities. He has worked extensively with grants and has a thorough knowledge of both pre-award and post-award compliance responsibilities on federal and recipient levels, including U.S. Departments of Homeland Security, Veterans Affairs, Justice, Environmental Protection Agency, and Health and Human Services. 

Rex is known for his open manner, which encourages learning and participation, and for his mastery of the subject matter. He has created and/or facilitates the following workshops for non-profit and local government entities nationwide: 
Organizational Effectiveness and Leadership
Non-Profit Efficiency and Compliance Best Practices
Preparing the Federal Grant Application Budget and Budget Narrative
Uniform Administrative Requirements: OMB Circular 2 CFR 200, Subparts A - D 
Managing Federal Grants and Cooperative Agreements for Recipients
Subawarding for Pass-Through Entities: Designing Accountable Programs, Selecting Subrecipients, and Monitoring Subgrants
Federal Cooperative Agreement Management
Evaluating Federal Funds Management Capabilities of Recipients
Accountability for Federal Grant Awards: Planning, Measuring, and Reporting
Financial Administration of Federal Recipients
Better Business Practices:  How to Calibrate Data Collection and Reporting Tools
Understanding National Policy Requirements
(12/1/21)
Scott Preppernau
Scott is a principal and consulting actuary in the Portland, Oregon, office of Milliman. He has over 17 years of experience in pension plan consulting and has worked with governmental and corporate plan sponsors to effectively manage their pension and retiree medical programs. Scott's clients include large state and municipal retirement systems as well as private sector plan sponsors. In these roles, Scott frequently delivers public presentations to Retirement Boards, elected officials, and other stakeholders.
(1/6/22)
Jared Rollins
Special Agent Rollins's area of focus as an Agent in the FBI is primarily White Collar Crimes and Public Corruption. Special Agent Rollins has been assigned to the Portland Field Office of the FBI since August of 2018. Prior to joining the FBI Agent Rollins spent 10 years in the private sector working in Public Accounting as an auditor of private companies and as an Internal Auditor at a publicly traded payments processing company.
Keith Simovic
Keith Simovic is an experienced business advisor specializing in providing assurance and consulting services to power, utility and governmental entities throughout the United States. Keith builds strong partnerships with key client stakeholders to help plan for and navigate the changes the utility and government industries are facing including the fast-paced technological, regulatory, and financial reporting changes of today and into the future. Keith thrives on helping clients grow, improve and problem solve their most complex and pressing challenges through the use of smart collaboration to pull from the vast resources and skillsets that Moss Adams has to offer, including IT, cybersecurity, construction/contract audits, and performance audits.

Key engagements have included financial statement audits, reviews, and attestation engagements as well as internal control assessments and flowcharting, accounting standard implementation assistance, forensic procedures, budgeting, federal single audits in accordance with OMB's Uniform Guidance, presentations and on-site training, and other various consulting engagements.

Keith is also an avid music fan and guitarist with a passion for live music. He lives with his family including two small children in Portland, Oregon.
(12/1/21)
Ashley Tuttle
Ashley Tuttle, CPA, is the Accounting Manager at Clean Water Services. Previously she had been with the City of Portland since 2015 and managed the preparation and external audit of the Annual Comprehensive Financial Report for over three years.  Ashley has over 10 years' experience in governmental accounting for local governments in Oregon and Washington and is a licensed CPA in Washington State.
William Winship
Jake Winship is the manager of the actuarial section at Oregon Public Employees Retirement System (PERS) since May 2020. A member of the American Academy of Actuaries and an associate of the Society of Actuaries, he has more than twenty years of experience in multiple areas of practice. These include managed care, workers' compensation, and group annuities as well as public pensions.

A native of Kansas City, Missouri, Jake graduated from William Jewell College with a degree in mathematics. He has been interested in finance from a young age, as his mother is a CPA with an independent tax preparation practice. Jake is a CFA charterholder and a Certified Management Accountant in addition to his actuarial credentials.

Jake lives in Vancouver, Washington with his wife Karima and children Sean and Mathilde. An avid reader, he enjoys following baseball, hockey, and rugby.
(1/6/22)
Nancy Young-Oliver
Nancy Young-Oliver is the Director of Budget & Grants at TriMet in Portland Oregon. She was previously with Moss Adams LLP from 2006 through 2015 and prior to that she was with the Oregon Secretary of State Audits Division for ten years. Nancy has conducted fraud investigations for over 20 years and her experience includes conducting investigations in various industry groups including state, local and tribal governments, not-for-profits; auto dealerships; financial institutions; health care; manufacturing and distribution; colleges and universities; and construction companies. Nancy is also an adjunct professor at Portland State University teaching Forensic and Investigative Accounting. In 2013, Nancy was awarded an Achievement Medal from the City of Portland Police Bureau for the Justice for Fraud Victim's Program (fighting white-collar crime from the classroom). Nancy was published in the June 2014 Journal of Accountancy and has co-authored a guide on fraud in the dealership industry that was released in 2010.
(12/31/19)