Add to Calendar
Jan 24, 2022
Registration: 7:30 AM / Program: 8:00 AM - 4:35 PM Pacific Time
Fees
| | |
| --- | --- |
| Member Fee: | $295.00 |
| Nonmember Fee: | $370.00 |
---
Available Discounts
| | |
| --- | --- |
| AICPA Member: | None |
| Full time Accounting Educator: | -147.00 |
Description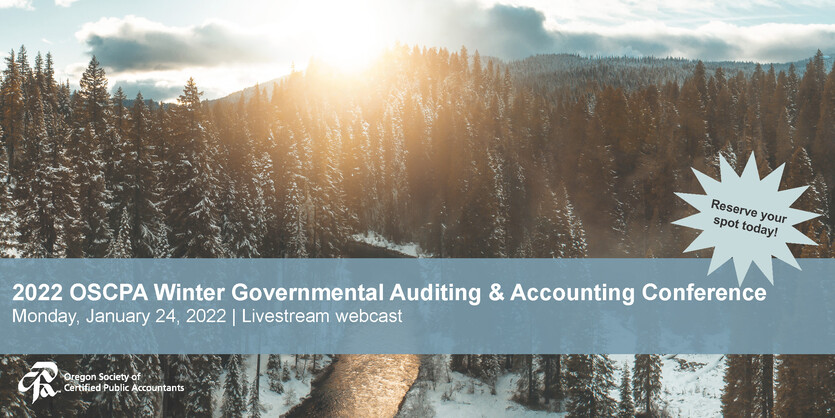 This conference will cover a general overview of current developments in governmental auditing and accounting, and will provide the knowledge that governmental auditors need!
To view conference agenda, click here.
YELLOW BOOK: May qualify for Yellow Book CPE based on your unique audited entity.
Businesses registering 6 or more receive a discount. Two livestream webcast viewing options available. Click here for more information and to select the appropriate order form:
Volume Discount: Individual Viewing Access — Select this viewing option to register multiple individuals from your firm/business to view webcast individually from their own PC/laptop.
Group Discount: Group Viewing Access — Provided circumstances surrounding COVID-19 allow for safe gatherings, participants view as a group in a firm/business conference/training room.
Conference is developed by the OSCPA Governmental Accounting & Auditing Strategic Committee.
Designed For
CPAs and accounting professionals working within the municipal environment and practitioners that complete governmental audits.
Objectives
To provide a general overview of current developments in governmental auditing and accounting.
Major Subjects
Incorporating Technology into the Audit Plan: A Recipe for Success
Leila Annen, CPA, Moss Adams LLP
With the increased use of technology by organizations for their operations, record-keeping, and reporting, it is increasingly important to consider information technology in planning and performing the financial statement audit. In this session, we will present strategies for incorporating general IT controls and automated/application controls into the audit plan. Additionally, we will highlight technology- and security-based considerations related to internal controls that may alter the auditor's work and/or their assessment of the control environment. We will share tips and tricks, success stories, reminders of relevant standards, and practical examples on these topics.

Internal Controls Over Compliance Vs. Compliance
Melisa Galasso, CPA, CGMA, CPTD, CSP, Galasso Learning Solutions LLC
Based on an AICPA Enhancing Audit Quality study, 23% of all single audits subject to enhanced oversight were materially non-conforming with professional standards due to failure to properly test controls over compliance. This course will provide an overview of internal controls over compliance specifically related to Single Audits. We will discuss how to apply the concept of internal controls to various compliance requirements. Additionally, a common finding in the audits of governmental entities receiving federal grants is the misidentification of controls and mistaking compliance for a control. That's why this course will also focus on identifying compliance ersus controls over compliance.

Single Audits of COVID Funds
Melisa Galasso, CPA, CGMA, CPTD, CSP, Galasso Learning Solutions LLC
The AICPA expects that due to all the additional COVID-19 funding, there will be over 10,000 new Single Audits.
Many of the COVID funds come with unique requirements. This course will look at the changes in the 2021
Compliance Supplement and related addendums so auditors can perform audits in compliance with the Uniform
Guidance.

Peer Review Update
Harry Bose, CPA, The RBH Group LLC
Topics covered will include the latest developments in peer review with a focus on the peer review implications of the new revenue recognition standard. In addition, the presentation will include an update on the AICPA Enhancing Audit Quality Initiative, and coverage of the upcoming changes to the Quality Control Standards.

The New Auditor Reports Under SAS 134
Tonya Moffitt, CPA, Merina + Co.
This session will discuss and provide examples on the major revisions to the Auditor's Report. Statement on Auditing Standards No. (SAS) 134, Auditor Reporting and Amendments, Including Amendments Addressing Disclosures in the Audit of Financial Statements significantly modifies the auditors reports. This session will aid auditors in ensuring they are in compliance for periods ending on or after December 15, 2021. We will also be going over the examples in the AICPA's State and Local Government Audit and Accounting Guide.
Did you know? The OSCPA member rate for CPE courses is extended to all OSCPA members and their employees who are not eligible for OSCPA membership. Members of other state CPA societies are also eligible for member rates.
After adding the course(s) to your cart, click "Apply Discounts" and select either "This person is an uncertified staff of an OSCPA member" or "This person is a member of another state CPA society."
---
Leaders
Leila Annen
Leila Annen is an established business advisor specialized in partnering with stakeholders to address technology and compliance risks through the effective design, implementation, and operation of processes and internal controls. She is also highly experienced in helping companies identify opportunities for improvement of policies, procedures, and systems to address financial and operational risks and business challenges that arise as a result of an ever-changing regulatory environment.
 
Leila's clients span a wide variety of industries, including retail, utilities, manufacturing, financial institutions, technology, and governmental/public-sector, and her experience includes SEC/ICFR audits, financial statement audits, attestation engagements, technology risk assessments, internal audit, and IT internal controls consulting. She is an active leader in promoting and implementing improved IT Audit methodology and delivers formal annual training to the Moss Adams Assurance and Consulting practices, in addition to presenting at local, regional, and national conferences through other membership organizations.

Leila lives in Portland, Oregon, and spends most of her free time enjoying the outdoors with her toddler son, expanding her culinary skills, and leisurely painting.
(9/1/21)
Harry Bose
Harry Bose, CPA has been practicing public accounting in Pendleton, Oregon since 1986 and starting in 1994 established a practice peer reviewing CPA firms in Oregon and nationally. A member of the Oregon Society of CPAs (OSCPA), Harry has served as a regional chapter chair at the local level and as an officer and board member at the state level. He chaired the OSCPA during the Society's fiscal year April 2016 through March 2017. Harry has been an active member of the OSCPA Peer Review Committee for many years, chairing the Committee in 2006-07 and currently serves as a technical reviewer for the program. On the national level, he is an active member of the American Institute of Public Accountants (AICPA) and served on the AICPA Peer Review Task Force from 2002 through 2005. Harry has written articles for various professional publications, and has served as an instruction leader at continuing education conferences. He is a native Oregonian, graduating from the University of Oregon in 1981, and receiving his Oregon CPA certificate in July 1984.
(9/20/21)
Melisa Galasso
Melisa F. Galasso is the founder and CEO of Galasso Learning Solutions LLC. A CPA with nearly 20 years of experience in the accounting profession, Melisa designs and facilitates courses in advanced technical accounting and auditing topics, including not-for-profit and governmental accounting.

Her passion is providing high-quality CPE that is meaningful, creates efficiencies and improves quality, and positively impacts ROI. She also supports essential professional development, audit level training, and train the trainer efforts.

Melisa is a Certified Professional in Talent Development (CPTD) and has earned the Association for Talent Development Master Trainer™ designation. Her passion for instructional design and adult learning techniques is one of the differentiators that set her apart from other CPE providers.

She also serves on the FASB's Not-for-Profit Advisory Committee (NAC), AICPA Council, and the VSCPA's Board of Directors. She previously served on the AICPA's Technical Issues Committee (TIC) and is a past-Chair of the NCACPA's A&A committee.  In addition, Melisa authors the AICPA's State and Local Government Guide and serves as a SME for the Center for Plain English Accounting.

Melisa is a 2020 Enterprising Women of the Year Award recipient and was honored as a "40 under 40" by CPA Practice Advisor in 2017, 2018, and 2019. She was also named the 2019 Rising Star by her regional NAWBO chapter, received the Don Farmer award for achievement in technical content instruction, and earned several other awards for public speaking and technical training.

(3/19/21)
Tonya Moffitt
Tonya Moffitt, CPA is a Partner of Merina+Co where she performs and manages governmental audits. She is the co-chair of the Accounting Standards Review Committee for the Oregon Municipal Finance Officers Association, OSCPA Governmental Accounting and Auditing Strategic Committee and a reviewer for the Government Finance Officers Association Certificate of Excellence in Financial Reporting awards program.
She teaches various continuing professional education classes to Certified Public Accountants, industry professionals, and students for the Association of International Certified Professional Accountants (AICPA), Oregon Society of Certified Public Accountants (OSCPA), Oregon Government Finance Officers Association (OGFOA) and various others.
(7/7/20)