Add to Calendar
Nov 17, 2021
Registration: 7:30 AM / Program: 8:00 AM - 11:00 AM Pacific Time
Fees
| | |
| --- | --- |
| Member Fee: | $0.00 |
| Nonmember Fee: | $0.00 |
---
Available Discounts
| | |
| --- | --- |
| AICPA Member: | None |
| Full time Accounting Educator: | None |
Description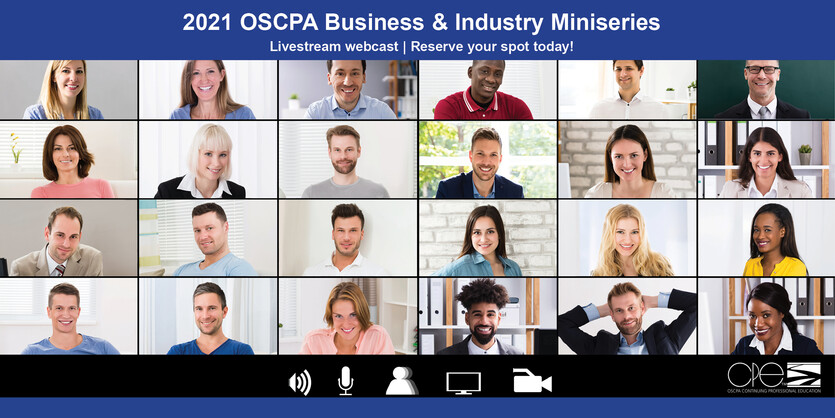 Learn about the hot issues impacting members in business and industry.
Click here to view webcast agenda.
Miniseries developed by OSCPA Business Management & Advisory Services Strategic Committee.
Designed For
CPAs, CFOs, controllers and other financial managers in industry who wish to update their knowledge and skills.
Objectives
Provide an overview of current issues and developments impacting the private industry arena.
Major Subjects
Top Steps That You Should Take Right Now to Improve the Cybersecurity Posture of Your Organization
Christian Perrier, Fixed Fee IT
One breach could be business ending. What steps are you taking to protect your organization from the catastrophic risk of cyber-attack? We are all targets, and cyber defense is too often not understood, not implemented, or not effective. Explore the steps that you should be taking within your organization to elevate your defenses and lower your risk.


Restructurings, Turnarounds and Insolvency
Daniel Boverman, CTP, Boverman & Associates LLC & Tara Schleicher, Attorney, Foster Garvey PC
Join an experienced restructuring officer and attorney to review fundamentals and best practices for clients that may face issues leading to a restructuring, operational turnaround or liquidation. This session will cover the following topics: Identifying Restructuring, Turnaround or Insolvency Situations; Key Parties and Roles; Business Assessment Fundamentals; Liquidation Analysis and Implications; Strategic and Legal Alternatives; Out-of-Court Restructurings & Recapitalizations; Bankruptcy Reorganization or Liquidation; Receivership; Practice Management in Restructuring & Turnaround Situations.


Best Practices for ERP Selections
Dan Isaacson, Bennett Porter & Associates Inc
We have all heard the horror stories of failed ERP software conversions. If you have heard of them, the thought of changing an ERP will probably give you some anxiety and if you have been part of one of those implementation disasters you will likely have second thoughts on diving into an ERP change. The goal of this session is to give you tips on making a change and setting the stage for a successful search and implementation process.
If you would like to register for this event, please contact OSCPA at 800-255-1470, 503-641-7200, or email profdev@orcpa.org.
---
Leaders
Daniel Boverman
Daniel "Dan" Boverman, CTP, began his career in 1982 with Arthur Andersen & Co. in San Francisco working primarily with large financial, manufacturing and communications companies. He was later chief financial officer of TXL Capital Group, a middle-market investment banking firm, and president of its NASD registered broker-dealer subsidiary.

As a principal in private equity firm Genstar Capital Partners for eight years, Dan was involved in the investment and management of more than $200 million in controlling equity investments as well as numerous bank financings and public debt and equity offerings, and represented the firm and its investors on portfolio company boards.

In 1997 Dan returned to his home town of Portland, Oregon where he became CFO of Tyler Encapsulations, a dietary supplements company where he developed a strategy that led to a recapitalization and consolidation with three similar companies and was appointed CFO of the resulting entity, Enzymatic Therapy Inc. He was also CFO of an Internet services company whose founders included Intel executives and CFO of a distributed generation company founded by former senior executives of PacifiCorp.

In 2002 Dan joined Glass & Associates, Inc., later acquired by Huron Consulting Group, where he was a restructuring, turnaround and crisis management advisor and interim executive. During this time Dan worked with businesses with annual sales ranging from less than $50 million to over $1.5 billion. Engagements included strategic and operational assessments, operational turnarounds, financial restructurings, debt financings, mergers and acquisitions and liquidations where he improved outcomes for stakeholders including secured and unsecured creditors, shareholders and employees.
(10/8/21)
Dan Isaacson
Dan Isaacson has been a trusted software consultant helping organizations improve the efficiencies of their internal processes and controls through their Enterprise Resource Planning applications (ERP).  Dan has led implementation projects for a number of market leading ERP solutions. In addition, Dan leads the ERP consulting team at Bennett/Porter and Associates, a leading Sage and Acumatica software reseller. In his free time, Dan enjoys camping, hiking, and spending time with his wife and 5 kids.
(7/30/21)
Christian Perrier
Christian Perrier specializes in helping people with their technology so that they can achieve success in their business. He has spent the last 15 years working with organizations to allow them to harness the power of new technology while defending themselves against cyber-attack. As the Vice President of Technical Solutions at Fixed Fee IT, Christian oversees the security posture, policies, and management of a SOC II Type II audited organization and has experience with SEC, FINRA, HIPAA, PCI, SOC, and NIST compliance standards. He has a passion for helping people and organizations navigate the ever-changing world of cybersecurity and implementing solutions to keep themselves protected.
(1/14/21)
Tara Schleicher
Tara Schleicher is a restructuring and insolvency attorney in the Portland office of Foster Garvey, where she serves as Chair of the firm's Creditors' Rights & Bankruptcy practice. For more than 25 years, Tara has advised clients by providing practical and efficient solutions to complex problems involving multiple parties with competing interests. She focuses her practice on the litigation needs of business clients, addressing insolvency-related matters in all forums in which debtor-creditor issues arise, whether out of court, bankruptcy court, state and federal court or appellate court. Tara's clients include businesses that are maneuvering through reorganization proceedings, lenders, trade creditors, buyers of assets out of bankruptcy or receivership, banks and other financial service providers, unsecured creditors' committees and receivers. Tara is certified as a Business Bankruptcy Specialist by the American Board of Certification. She holds her J.D. and M.B.A. from Willamette University and her B.S. from Oregon State University. Tara is a Board Member and the President of the Turnaround Management Association's Northwest Chapter and is an active member of the American Bankruptcy Institute and Risk Management Association. She previously served as Chair of the Oregon State Bar's Debtor-Creditor Section.
(10/22/21)