Add to Calendar
Oct 20, 2021
Registration: 7:30 AM / Program: 8:00 AM - 11:00 AM Pacific Time
Fees
| | |
| --- | --- |
| Member Fee: | $79.00 |
| Nonmember Fee: | $99.00 |
---
Available Discounts
| | |
| --- | --- |
| AICPA Member: | None |
| Full time Accounting Educator: | -39.00 |
Description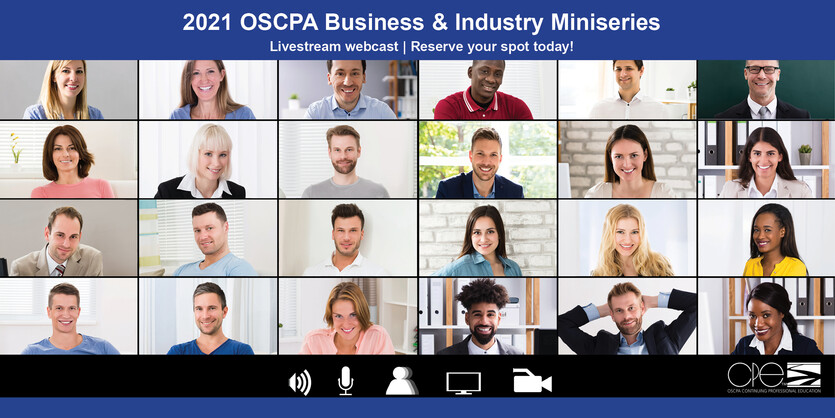 Learn about the hot issues impacting members in business and industry.
This course is available as part of the Business & Industry Miniseries Webcast Bundle. Register for the 8-hour Webcast Bundle and save $30 – Click Here.
Click here to view webcast agenda.
Miniseries developed by OSCPA Business Management & Advisory Services Strategic Committee.
Designed For
CPAs, CFOs, controllers and other financial managers in industry who wish to update their knowledge and skills.
Objectives
Provide an overview of current issues and developments impacting the private industry arena.
Major Subjects
Small Business Administration (SBA) Programs to Aid Small Businesses in Start-up, Growth, and Recovery
Ashley Lambeth Christian, US Small Business Administration
This session will cover the primary programs of the SBA. SBA increases access to capital through its loan guarantee programs- microloans, 7a loans, and 504 loans. They oversee programs for investment and grants through SBIC, SBIR, and STTR. The agency provides guidance to small business owners through an extensive network of field offices and resource partners-SBDC, SCORE, WBC, and VBOC. The SBA also oversees government contracting certifications and programs.

Small Business Manufacturing and Confronting the Challenges Ahead
Shane Steinke, Oregon Manufacturing Extension Partnership
Learn more about the challenges facing small- and medium-sized manufacturers today and in the years ahead. Speakers from the Oregon Manufacturing Extension Partnership will describe the non-profit's role in assisting small companies overcome the challenges standing the in way of their continued success.

Optimizing Resources for Small Business
Robert Killen, CGBP, Lane Small Business Development Center
In stark contrast to popular opinion, we don't lack resources for small business. We lack an awareness of those resources. In truth, there is almost no obstacle faced by a business that doesn't have someone whose job it is to help them overcome it. In this presentation learn about the wealth of resources available to support business growth, beginning with the Oregon SBDC Network.
If you would like to register for this event, please contact OSCPA at 800-255-1470, 503-641-7200, or email profdev@orcpa.org.
---
Leaders
Robert Killen
Robert Killen has managed for-profit and nonprofit organizations, spent a decade in the arts, a second in finance, and a third in operations.

In his role as Director of the Lane Small Business Development Center, Robert has been bringing together the resource ecosystem in a coordinated effort to provide greater support for small businesses.

Robert thrives as an educator. He is an author, is currently designing core curriculum for the Oregon SBDC Network, and leads a custom-built startup boot camp for regional entrepreneurs.
(8/31/21)
Ashley Lambeth Christian
Ashley Lambeth Christian is the newest member of the U.S. SBA's Portland District Office. She joined the team, March 2021, as the Outreach and Marketing Specialist. Ashley is also Associate Faculty for MiraCosta Community College's Business Department. Other notable roles include Business Consultant For the Southern California Veteran Business Outreach Center, entrepreneur, and leadership roles in hospitality, construction, and education. 
(7/30/21) 
Shane Steinke
Shane is an executive leader with more than twenty-four years of operations and planning experience, skilled at managing dynamic and complex environments while balancing personnel, budgets, and customer requirements. 

As a Principal Consultant at OMEP, Shane delivers results by utilizing his extensive experience with risk mitigation and problem analysis to evaluate alternative options for manufacturers and by helping them to implement change successfully. 

Before OMEP, Shane served in the United States Air Force. During his military career, he led process analysis to improve efficiencies, driving a 67% performance increase. As a change management expert, Shane specializes in leading complex organizations. He draws on his Military experience to connect manufacturers with opportunities in the Department of Defense (DOD) supply chain.
(9/9/21)