Previous
Next
This is a Self-Study / On-Demand event. In the event title, "Webcast" indicates the event has a self-paced webcast to view with the materials to complete the self-study. "Download" indicates the user downloads only the materials to complete the self-study.
Fees
| | |
| --- | --- |
| Member Fee: | $0.00 |
| Nonmember Fee: | $0.00 |
---
Available Discounts
| | |
| --- | --- |
| AICPA Member: | None |
| Full time Accounting Educator: | None |
Description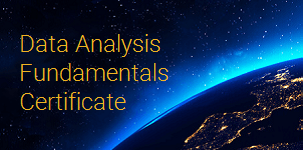 The Data Analysis Fundamentals Certificate begins with a foundational understanding of the need of transformational assets within an organization and explains the importance of intelligent data management and corresponding analytics practice.
The Data Analysis Fundamentals Certificate aims to provide you with the knowledge on the different job roles involved in the analytics practice and the most commonly encountered technologies in today's data ecosystem. It will cover concepts behind the most common types of data you will need to be prepared to analyze, as well as help you explore the factors impacting data practice.
This certificate program will also explain why intelligent data management and a corresponding analytics practice is critical for the success of both the organization and the professional.
Note: This is an on-demand/self-study course. It expires one year from the date of purchase.
Designed For
Accounting and finance professionals, especially those interested in learning and applying data analysis techniques to help their organizations' make informed, data-driven business decisions.
Objectives
Determine how the digital transformation and disruption landscape create a competitive advantage across the enterprise.
Identify the organizational ecosystem needed for becoming a data-driven organization.
Analyze the life cycle of data and its implications for data-driven decision making.
Compare common problems and risks associated with becoming a data-driven business.
Differentiate between data analysis tools. Identify requirements for data-driven projects.
Major Subjects
The business impacts and disruptive potential of organizational data
Basic concepts behind different types of data and how they're used
The job roles and duties associated with data analytics
The life cycle of organizational data and how to manage it
A vocabulary for evaluating and communicating in data practice
Exposure to and demonstrations of tools used for managing and analyzing data
Common obstacles and hurdles to effectively leveraging data in an organization
How to tie data to business requirements and build business cases
This event has already passed. If you have any questions, please contact us at 503-641-7200 or email profdev@orcpa.org.
---