Add to Calendar
May 24, 2018 - May 25, 2018
Registration: 7:30 AM / Program: 8:00 AM - 4:00 PM
Fees
| | |
| --- | --- |
| Member Fee: | $585.00 |
| Nonmember Fee: | $685.00 |
---
Available Discounts
| | |
| --- | --- |
| AICPA Member: | None |
| Full time Accounting Educator: | -292.00 |
The above fees may not be reflective of the total event price. See below.
Description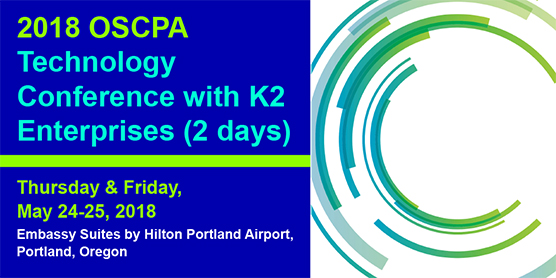 Click the image above to view the conference brochure!
This conference is filled with 16 hours of fast-paced presentations designed to maximize your time and enhance your learning. Nationally recognized speakers have extensive expertise in numerous software applications. They will share their knowledge with you in order to help you do your job with efficiency and ease. Participants will receive helpful tips and advanced techniques, along with the tools and skills necessary to keep up with the ever-increasing pace of changes in computer technology. All sessions feature high quality, full-color computer projection systems for clear viewing.
NOTE: Instructional delivery method: Group-live demo and discussion using color computer projection - NOT a hands-on course.
Two attendees will be winners of $100 Amazon Gift Cards. Drawing to be held at the end of the conference.
We appreciate the following businesses for sponsoring the 2018 OSCPA Technology Conference with K2 Enterprises:



Bennett / Porter & Associates Inc.
MyEzHR Academy by Pay Plus Benefits, Inc.
Designed For
Busy accounting and financial professionals who want to improve their personal and organizational productivity.
Objectives
To provide participants with the tools and skills they need to keep up with the ever-increasing pace of changes in computer technology.
Major Subjects
Day One - May 24, 2018

General Session: Tech Update 2018
What to do? What to buy? What to watch for? What to avoid? Get your answers in Tech Update. Specific topics included in this session are: technology trends, recommended hardware specifications, applications and licensing, and security. This session provides concentrated exposure to technology that may reveal ideas, trends, and options that you had not discovered through your normal channels.
Concurrent Sessions - Morning (A Block) (sessions are listed below - choose one from this block)

A-1: CPA Firm Technologies 
A-2: Data Analysis with Power Pivot
A-3: Security - A Practical Guid

Concurrent Sessions - Afternoon (B Block) (sessions are listed below - choose one from this block)

B-1: Evaluating Technology Controls
B-2: Excel Financial Modeling Best Practices
B-3: Personal Technologies

General Session:
Office 365 - New Tools, New Tricks
As part of the ever-changing nature of Office 365, Microsoft has added several new tools - including Teams, Flow, Planner, Stream, and PowerApps - to the suite and has also added many new collaborative features to Excel, Word, and other existing applications. Join us for this productivity-enhancing session in which you will learn about the new opportunities in Office 365 and how to improve your productivity by taking advantage of them.

Day Two - May 25, 2018
General Session: Emerging Technologies
The next wave of technology is arriving now and you will need to choose from various technologies and tools to maintain and improve your productivity. Each emerging technology - among them Artificial Intelligence, Big Data, and Machine Learning - will be explained including why it is important and how it works. Additionally, actual products will be used as examples in each category to turn this discussion from a theoretical overview to a practical selection and how-to-cookbook.
Concurrent Sessions - Morning (C Block) (sessions are listed below - choose one from this block)

C-1: Client Accounting and the Outsourced CFO
C-2: Extending the Power of Excel with Useful Add-ins
C-3: The Best Kept Secrets of Windows 10

Concurrent Sessions - Afternoon (D Block) (sessions are listed below - choose one from this block)

D-1: Technology Decision Tree - Medium to Large Business Accounting
D-2: Microsoft Power BI - Power Reporting for Free!
D-3: Filtering the World - Spam, Virus, and Malware Protection

Concurrent Sessions - Afternoon (E Block) (sessions are listed below - choose one from this block)

E-1: Blockchain and Cryptocurrencies
E-2: What to Ask Your Technology Providers
E-3: Ransomware - Reducing Your Risks

General Session:
Tales of True Tech Crimes - Ripped from the Headlines
Security is a top concern for CPAs every year, yet many hacks result from organizations failing to implement effective information technology controls. In this session, you will learn about critical controls by using case studies from recent security incidents. This strategy helps you understand risks and appropriate responses. Learn how to reduce your risk associated with unauthorized access, theft of information, identity theft, data exfiltration, tax refund fraud, and more.
---
Leaders
Randolph Johnston
Randolph P. (Randy) Johnston, MCS Shareholder, K2 Enterprises Hutchinson, Kansas randy@k2e.com Randy Johnston is a nationally recognized educator, consultant, and writer with over 40 years of experience in Strategic Technology Planning, Accounting Software Selection, Paperless, Systems and Network Integration, Business Continuity and Disaster Recovery Planning, Business Development and Management, Process Engineering and outsourced managed services. EXPERIENCE K2 Enterprises (K2E.com) 1990 – Present Hammond, LA Executive Vice President, Shareholder – Nation's leading technology CPE provider to CPA professionals. Consults to high profile technology vendors. Delivers national seminars to CPAs, business groups and IT leaders on technologies in accounting, healthcare and banking. Creates and presents seminars and articles on 30+ technology topics including CPA Firm Technology, Cloud, Paperless, Business Continuity, Accounting Software and Business Strategies leveraging technology. Network Management Group, Inc. (NMGI.com) 1983 – Present Hutchinson, KS Chairman & CEO, Stockholder – Consults and specializes in Strategic Technology including planning, selection and implementation. Expertise: CPA Firm Technology and strategy; Paperless; Accounting Software, Business Intelligence and CRM; Infrastructure including: Cloud, Business Continuity, Virtualization, Backup, and remote management. Hutchinson Community College 1977 - 1997 Department Chair, Professor, Adjunct - Mathematics & MIS Depts. Designed and taught courses in all areas of mathematics & computing. Professional Data Services 1978 - 1981 Programmer and system designer - Developed a medical system including the first paperless claims in Kansas, appointments and collection systems. Owned ComputerLand, Entre' and Connecting Point stores, received first IBM PC and first Compaq portable in Kansas. Farmland Industries 1977 - 1978 Programmer and system designer - Developed and maintained P&L, Credit Union and Feedlot accounting EDUCATION Hutchinson Community College, 1975 A.A. in Computer Science, Math Kansas State University,1977 B.S., summa cum laude, in C.S., Math, Science Wichita State University, 1981 Masters of Computer Science, 60+ post graduate hours ACKNOWLEDGEMENTS Accounting Today - Listed as one of the 2004-2015 Top 100 Most Influential People CPA Practice Advisor - Accounting Hall of Fame 2011, Top 25 Thought Leader 2011-2017 Accounting Technology - Listed as one of the top nine technology stars in the industry AICPA Technology Conference - Past Chair and featured Speaker for the past 31 years. Who's Who in Business & Industry – 1990-2017; in Computing 1987-2017 - Acknowledged as leading business professional and as a leading computing professional CERTIFICATIONS Microsoft Corporation - Microsoft Certified Professional – MCP Novell Corporation - Certified Network Administrator – CNA AutoDesk, 3Com, Entre' - Certified CAD specialist, Network Professional, Data Communications PUBLICATIONS Various publications 1978 - Present CPA Practice Advisor monthly columnist, Journal of Accountancy, CRN, Accounting Technology, PCWeek, InfoWorld, Interface, State Society newsletters, frequent quotes in accounting and computer press. Mitchell Publishing - 1981 Basic Using Micros Random House - 1982 Business Computing Systems McGraw Hill - 1984 Computers: An Introduction John Wiley & Sons Publishing - 2002 Technology Best Practices K2 Enterprises – 2003-2012 Accounting Software Solutions
Val Steed
Val D. Steed, CPA.CITP, MA Shareholder, K2 Enterprises Centerville, Utah val@k2e.com Awards and Recognition: •Accounting Today's Top 100 Influential Accounting Professionals •AICPA Certificate of Appreciation - Strategic Planning Committee •Alumni Professional Achievement Award – Utah State University •Outstanding Discussion Leader Award – Indiana Society of CPAs •Outstanding Discussion Leader Award – Utah Association of CPAs •Three year recipient of AICPA Outstanding Discussion Leader Award Professional Service: •Three-year Member - AICPA's Strategic Planning Committee •Four-year Member - AICPA's Information Technology Executive Committee •Five-year Member - AICPA's Microcomputer Conference Committee •Chair of the AICPA's Technology Conference •Two-term Chairperson of the Consulting Services Committee •Two-term Chairperson - CPE Committee for the Utah Association of CPAs •Life-Loyal Sigma Chi Val Steed graduated from Utah State University where he received both his Bachelors of Science (BS) in Accounting and his Masters of Accounting (MA). After college, Val worked for Deloitte Haskins and Sells of Salt Lake City, Utah, and then with Hansen, Steed, Bradshaw & Malmrose P.C. of Salt Lake City. Val was with Hansen, Steed, Bradshaw & Malmrose P.C. for eleven years and was a shareholder for six years before leaving to start K2 Enterprises. Currently, Val is the CEO of K2 Enterprises which is a national technology training and consulting organization. He has twelve years experience in public practice and has been involved with the accounting technology industry for more than 30 years.
Thomas Stephens
Thomas G. (Tommy) Stephens, Jr., CPA,CITP, CGMA Shareholder, K2 Enterprises Woodstock, Georgia tommy@k2e.com Thomas G. Stephens, Jr., received a Bachelor of Science in Business Administration degree (Major in Accounting) from Auburn University in 1985. Upon graduation, Mr. Stephens began working for an Atlanta-based public accounting firm. After earning his designation as a Certified Public Accountant, Mr. Stephens worked for BellSouth Corporation in Atlanta as an Internal Auditor. After two years as an auditor, he was promoted to Staff Manager and then Operations Manager of the Internal Audit Group. In 1991, he transferred to the Comptrollers' department of BellSouth and served as Manager of the Cost Accounting organization. While working full-time at BellSouth Corporation, Mr. Stephens also attended graduate school, earning a Masters of Science (Major in Finance) from Georgia State University in 1992. Mr. Stephens left BellSouth in 1994 and opened his public accounting practice in the metropolitan Atlanta area. In his practice, Mr. Stephens provided accounting, tax, and consulting services to individuals and a wide variety of small and emerging businesses. Additionally, in 1995 he began authoring and presenting continuing professional education courses to accounting and finance professionals. In 2003, Mr. Stephens affiliated with K2 Enterprises and in 2007 he joined the firm as a partner. To date, he has lectured nationally on subjects such as internal controls for small businesses, technology strategies, computer hardware and software applications, tax strategies and compliance, and financial accounting standards and applications. Over the past twenty-two years, Mr. Stephens has presented in excess of 2,100 educational sessions to over 61,000 participants nationwide. Presently, Mr. Stephens resides in Woodstock, Georgia where, in addition to his association with K2 Enterprises, he provides consulting services to small businesses and CPA firms. In addition to an active professional career, Mr. Stephens enjoys an active personal life as well. He and Michelle -- his wife of thirty years -- have two children. His hobbies include snow skiing, fishing, and running. Additionally, Mr. Stephens maintains professional memberships with the American Institute of Certified Public Accountants and the Georgia Society of Certified Public Accountants and is a past member of the Institute of Internal Auditors.