Add to Calendar
Jun 13, 2018
Registration: 7:15 AM / Program: 8:00 AM - 4:30 PM Pacific Time
Fees
| | |
| --- | --- |
| Member Fee: | $0.00 |
| Nonmember Fee: | $0.00 |
---
Available Discounts
| | |
| --- | --- |
| AICPA Member: | None |
| Full time Accounting Educator: | None |
Description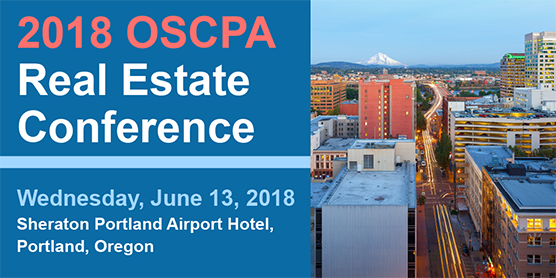 Click the image above to view the conference brochure.
Learn about the recent developments and important issues in real estate with a focus on taxation!
Conference developed by the OSCPA Real Estate Project Committee.

CLE (OR): 7 hours approved
Designed For
CPAs with clients that own property, property owners, or anyone thinking about buying, selling, or owning real estate for investment; those who wish to know what to expect regarding tax laws and economic trends.
Objectives
To provide an overview of recent developments and important issues in real estate with a focus on taxation.
Major Subjects
Economic Update: Second Place in a Different World and a Strong Region
John W. Mitchell, PhD
M&H Economic Consultants, Lake Oswego, OR

Federal Tax and GAAP Updates for Real Estate
Trent T. Baeckl, CPA
Perkins & Co, Portland, OR

Drew M. Stevenson, CPA
Perkins & Co, Portland, OR

Legal Issues that Impact Landlord & Tenant Laws
Leah C. Sykes, Attorney

Efficient Financing for Your Commercial Property
Chris Page
JD Fulwiler & Co Insurance, Portland, OR

Collin Kautz
Marcus & Millichap Capital Corp, Portland, OR

1031 Exchange and the Impact the Tax Cuts & Jobs Act Has on Real Estate and Business
Doug Blackwell
Investment Property Exchange Services Inc, Portland, OR

This event has already passed. If you have any questions, please contact us at 503-641-7200 or email profdev@orcpa.org.
---
Leaders
Trent Baeckl
Trent Baeckl is a shareholder at Perkins & Co. Since joining the firm in 2007, he has primarily specialized within the firm's real estate practice group. Trent's professional background in public accounting includes experience in tax for a variety of clients and entities focusing on pass-through taxation compliance and planning for pass-through entities and corporations. He serves a wide range of real estate clients including investment funds, real estate developers, construction companies, architects and single family home builders. In addition to his work in the real estate industry, Trent serves professional and creative service firms, manufacturing and distribution companies, and retail businesses. He also works with the owners of these closely held businesses to ensure that planning is comprehensive in nature. Trent holds a Bachelor of Science of General Studies from the University of Michigan and a Master of Accounting degree from Washington State University. He is a member of the American Institute of CPAs and Oregon Society of CPAs, where he has served on the real estate education committee, and currently he serves on the board of St. Andrews Legal Clinic and Portland Alternative Investment Association.
(11/19/20)
Doug Blackwell
With over two decades in 1031 Exchange facilitation, public financial education, real estate and financial planning Doug Blackwell brings true passion, experience and vast knowledge to IPX1031. As Vice President, Oregon & SW Washington, he delivers an impactful and thorough message of "get the facts, before you pay the tax" in an easily understandable manner to investors, real estate professionals, CPAs, attorneys and financial planners. Doug prides himself as a problem solver, and has helped countless numbers of investors "keep more of what they made" having been involved in greater than 15,000 exchanges ranging from simple single family houses to complicated commercial and personal property exchanges. He has also been a real estate radio talk show personality, and has owned and operated several businesses and franchises. Doug is a US Navy veteran, has been married to his wife Lynda for over twenty seven years and is dedicated to his family, company and clients he serves.
(3/27/18)
Collin Kautz
Collin Kautz joined Marcus & Millichap Capital in May, 2015. Collin utilizes his local market knowledge of the Pacific Northwest and MMCC's national reach to deliver optimal results to his clients. Collin advises his clients which sources of capital and which loan products are best suited for their long-term investment plans, thus achieving the best financing terms for his clients. Before joining Marcus & Millichap Capital, Collin spent four years with Chase Bank advising his clients on their personal investments. He leverages his years of customer service experience to exceed client expectations and build long term relationships. Collin is originally from Long Beach, CA. He received his Bachelor's degree in business finance from San Diego State University. While in college, Collin is proud to say he worked at Disneyland over his summer vacations and holiday breaks. He values the experience as the time when great customer service became ingrained in his work. By combining his advisory approach with his focus on efficient investing, Collin delivers effective solutions to meet his client's investment goals. Collin lives in Portland with his wife Allie and son Landon and enjoys spending his time exploring Portland, especially its many restaurants, playing basketball, and travelling with friends and family.
John Mitchell
John Mitchell received his B.A. degree from Williams College and his M.S. and Ph.D. degrees from the University of Oregon. He is a fellow of the College of Arts and Sciences at the University of Oregon and a member of Phi Beta Kappa. He was a professor of economics at Boise State University for 13 years, before joining U.S. Bancorp in July of 1983. He was Chief Economist of U.S. Bancorp until July of 1998 and served as Economist Western Region for US Bank until July of 2007. He wrote US. Bancorp's regional publications including the Update, The Business Barometer, Northwest Portrait, and US Territorys and was a columnist for Oregon Business Magazine. He wrote Sterling Bank's economic newsletter from 2007 to 2012. He currently speaks to conventions and business groups around the nation. He was a business analyst for KPTV in Portland. He has been making economic presentations on the nation and the region for more than 47 years.
John was a member of the Western Blue Chip Forecast Panel, the ABA's Panel of Economists and is a Trustee of the Aquila Tax Free Trust of Oregon, and a Board member of Northwest Bank. John was Chairman of the Oregon Council of Economic Advisors from 1992 to 1998 and a member from 1984 to 1998. He was Chairman of Governor Kitzhaber's Tax Review Technical Advisory Committee.
John and his wife, Carol, live in Coeur d' Alene, Idaho. He enjoys biking, railroading, sea kayaking, and his granddaughters.
(11/19/20)
Chris Page
Chris is a graduate of Oregon State University and joined JD Fulwiler in 1997. He specializes in insurance for Nonprofit Organizations. Chris enjoys roasting his own coffee and making home-brewed beer.
Drew Stevenson
At a time when his peers were still filling out college applications, Drew knew he would become an accountant. He had an aptitude for math, and "real numbers" with "real meaning" just made sense to him. By the time he finished high school, he had a year and a half of college credits under his belt and by the time he was 19, he had landed a coveted accounting internship in Minneapolis. After earning a degree in accounting at North Dakota State, Drew left the snowy, windy cornfields of his native southwest Minnesota for the misty evergreens of Oregon. He's been one of our favorite auditors ever since. Whether he's visiting his manufacturing industry clients onsite, helping them keep their books precise and their business efficient, or mentoring his fellow auditors in the office, Drew is a relationship builder. Patient and kind, Drew has a warm approachability that draws others to him. An avid college football fan, Drew follows the Florida Gators. In between games, he loves to hike in the Gorge and one day hopes to hike the Pacific Crest Trail. With his keen sense of direction, you can be sure he'll get there.
Leah Sykes
Leah Sykes is a founding partner in the Litigation practice, Andor Law, P.C. Ms. Sykes serves housing providers in all legal aspects of property management with a special focus on education and fair housing discrimination defense.

Ms. Sykes takes a hands-on approach, advising clients in both the non-profit and for-profit housing markets, with a great depth of knowledge of the interplay between federal, state, and local agencies and regulations. She has expanded her strong litigation background to include preventative methodologies for clients, including management, business structure, corporate training, and advising the industry in legislative matters.

Ms. Sykes travels regularly to educate clients, trade organizations, and the housing provider industry. In 2015, Ms. Sykes established an annual educational "Fair Housing Fair" in conjunction with Multifamily Northwest and regularly collaborates with other housing organizations and advocates regarding best organizational practices.

Proudly Canadian, Ms. Sykes has great empathy for the plight of immigrant women and has volunteered as an advocate for immigrant women. She also was appointed in May 2018 by the Portland City Council to sit on the City of Portland's Rental Services Commission to advise regarding rental housing laws and regulations.

Ms. Sykes was admitted to the Oregon State Bar in 2002, the Washington State Bar in 2016, and graduated from Lewis & Clark College of Law in Portland, Oregon with an entrance scholarship. She also received a scholarship and a Bachelor of Arts from Simon Fraser University in British Columbia, Canada.
(1/18/22)